And the 2019 VBS theme is…
If you're like us, VBS isn't over until the revealing of next year's theme. Not only is it exciting to get the kids and volunteers all amped up, it also gives kids ministry leaders the opportunity to start the ball rolling and prep for a brand new VBS theme next Summer!
On this page you'll find the latest news and updates from all of the top VBS curriculum publishers. We're watching them closely – Group VBS, LifeWay, Answers VBS, Orange VBS, CPH, RBP, Cokesbury, Mega Sports Camp, Go Fish, Abingdon Press and Bogard Press. Bookmark this page and follow us on Facebook to be the first to know what the 2019 VBS themes will be.
Latest 2019 VBS Themes Announced!
Group Easy VBS 2019 – ROAR!
Get ready to ROAR! Group's Easy VBS for 2019 takes us deep into the Serengeti where wild animals reveal God's character. Your VBS kids will explore the goodness of God and the power of ferocious faith. Kids and adults alike will meet some amazing African animals that illustrate true stories from the Bible that display how good God truly is! (Nahum 1:7)
Group announced their theme through a weeklong series of clues that took us around the world to sites of grandeur and beauty. Vacation Bible School is Group's specialty so we can't wait to see what they have in store in their starter kit. We'll have an in-depth review right here once we get it in our hot little hands!
Read our in-depth review of ROAR! VBS HERE.
Pre-Order ROAR! by Group HERE.
LifeWay VBS 2019 – In The Wild
Go into the forests and jungles of the world with LifeWay VBS for an adventure you'll never forget. Your VBS kids will take their cameras deep into the wild to capture images of the most exotic of God's creatures. Along the way they'll have some amazing encounters with the one who created them all, Jesus!
This amazing new VBS revealed by LifeWay will bring you face to face with wild animals like polar bears, elephants, crocodiles and more. These animals will introduce real-life stories of Jesus found in scripture.
Read our in-depth review of In The Wild VBS HERE.
Pre-Order In The Wild VBS by LifeWay HERE.

Answers VBS 2019 – The Incredible Race
On your mark, get set… You're off on a race around the world to "explore God's love for the Nations! Your VBS kids will dig deep in the biblical account of the Tower of Babel to discover we're all part of one great, big, incredible race of people descended from one man and woman, Adam and Eve.
Answers VBS's unique take on VBS provides a big picture look at who we all are, where we come from, and where we fit in the story God is telling. Tackling foundational themes like sin, racism, and redemption of the world, your Vacation Bible School will answer a ton of questions your kids (and church) are asking today.
Read our in-depth review of The Incredible Race VBS HERE.
Pre-Order The Incredible Race by Answers VBS HERE.
Cokesbury VBS 2019 – To Mars & Beyond
Blast off into a wide universe of discovery introduce your VBS kids to the God who does exceedingly abundantly above all we ask or think (Ephesians 3:20). Billed as the first VBS to land on the moon, Cokesbury's To Mars and Beyond takes your kids on a journey of discovery beyond the stars.
Each day your kids will land on a Bible story that highlights a power God can work within them–powers like Faith, Boldness, Kindness, Thankfulness, and Hope. With the exciting backdrop of interplanetary space travel, kids, teen helpers, and adult leaders alike will remember this Vacation Bible School all year long! Like LifeWay says, it's "One small step for your kids…one giant leap for God's Kingdom!"
Read our in-depth review of To Mars And Beyond HERE.
Pre-Order To Mars and Back VBS by Cokesbury HERE.
Concordia Publishing House VBS 2019 – Miraculous Mission
It's a space mission in reverse as the God of the Universe sends his Son on a mission to save the world. When the universe seems vast and we feel oh so small, we can know that we're not on our own when we remember Jesus' mission to be "God with Us" here on earth. With John 3:16 as the theme verse, your VBS kids will learn of God's great big love that crosses galaxies to save them.
With CPH's promise focus on true Bible stories rather than fairy tales, your VBS kids will journey from creation to the cross learning that God made them, keeps His Word, Jesus came for them, saves them, and He's coming for them. Beautiful artwork and Bible-focused lessons make this a worthy VBS to explore for your church.
Read our in-depth review of Miraculous Mission HERE.
Pre-Order Miraculous Mission VBS by CPH VBS HERE.
Orange VBS 2019 – Power Up
We love the casual cool of Orange VBS and their love for sharing God's Word with kids in simple and relevant ways. On May 23, they did a Facebook Live reveal of their 2019 VBS theme: Power Up – Raise Your Game. Using the retro-digital design elements and classic video game motifs, they're appealing to kids and Gen X/Millenial parents alike.
Level up day by day with Bible content that points kids to God's desire for relationship with them. With 2 Peter 1:3 as their key verse, kids will know that God's power gives them everything they need to lead a godly life. Player One is ready. We can't wait for our turn to drop a quarter in the slot and play!
Read our in-depth review of Power Up HERE.
Pre-Order Power Up VBS by Orange VBS HERE.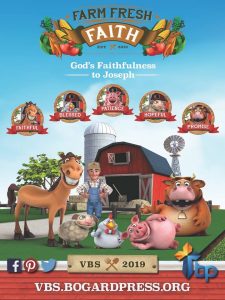 Bogard Press VBS 2019 – Farm Fresh Faith
If you got the Bogard Press catalog for Jungle River Adventure, you were probably surprised to see that they've already locked in their VBS theme for 2019! Announcing Bogard Press's 2019 VBS Theme… "Farm Fresh Faith – God's Faithfulness to Joseph." With Psalm 36:5 as the key verse, it appears that kids will learn that God (like a good farmer) cares for His own with faithfulness that reaches the clouds – just like He did for Joseph! We can't wait to see all the barnyard fun and Gospel truth of this brand new VBS theme. 2019 come quick.
Read our in-depth review of Farm Fresh Faith HERE.
Pre-Order Farm Fresh Faith VBS by Bogard Press VBS HERE.
Group's Holy Land Adventure VBS 2019 – Athens
Follow the Apostle Paul on his missionary journey to the ancient Greek city of Athens. Your VBS kids will thrill of the true-life adventures Paul experienced as he traveled the known world to tell people about Jesus. Paul left his life of privilege behind to face persecution and danger to spread the life-changing truth of God's love.
Every day of Vacation Bible School, kids will hear and experience the true stories that marked the spread of the Gospel in the first century. It's a great opportunity to build their knowledge of the historic Christian faith while embracing the love God has for them.
Read our in-depth review of Athens HERE.
Pre-order Athens by Group VBS HERE.
Scheduled Announcements!
Bookmark this page to find all the latest VBS theme news from Group, Lifeway, and so many more!

Maybe the most important part of knowing what the 2019 VBS theme will be is your chance to start scouring the thrift stores and garage sales to collect set pieces, costumes, and props. Is this scenario familiar to you? You take a pickup load full of old junk to the Goodwill, including that floppy old raft and oars your husband has kept since college. The very next day, you find out that next year's VBS is a white water rafting theme!!
We're here to help you plan for the best VBS ever!
Need t-shirts for past VBS themes?
We've got hundreds of designs for all the VBS themes you can think of. Click below to browse for your next great Vacation Bible School t-shirt.